Episodes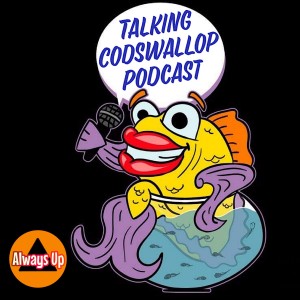 Sunday Jun 27, 2021
Sunday Jun 27, 2021
James has managed to break not 1 but 2 microphones, so this week Gemma beams up the Fish light for Codswallop help and manages to catch herself a Lurker Fish, formally known as Eeyore.. that's right folks Andy makes guest appearance this week. They discuss #Codswallops, one which is a heartfelt & emotional Codswallop, a REAL LIFE Salty Tadpole Interaction, when a tadpole comes to visit, what they are watching on the TV/Films, why it's not a good idea to ride a bike near Andy when running, Salty Tadpole answers to STI of the week and Gemma gets so involved with a story she makes the dog bark. All this and much more funny. Grab yourself a change of underwear, you might need them with this one. 
This episode is dedicated to Lyra, the beautiful little girl who didn't get to meet her Mummy, Daddy and siblings. Sending lots of love to Jarred and his family - story as discussed during the episode. 
IF this is your first time listening to Talking Codswallop, please can we ask you to follow Talking Codswallop on Facebook, Instagram + Twitter @CodswallopPod. REMEMBER TO CLICK SUBSCRIBE to the podcast to get all of the up to date episodes. We love our current audience, but we are always looking to grow. #IndiePodcastsNeedYourHelp!!!